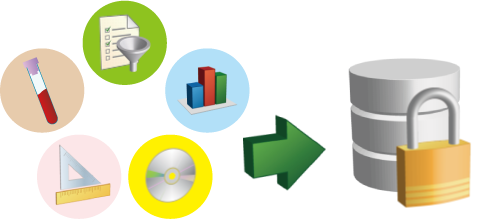 What is a biobank?
A Biobank is a repository wherein blood and urine samples, as well as health-related information, are stored for a prolonged period of time. Biobanking is a system in which stored samples are effectively used in research.
Implementing next-generation medical care
As part of Iwate Tohoku Medical Megabank Project, biological samples that have been received (e.g., blood and urine), health information, and laboratory data are managed by Iwate Medical University and Tohoku University. Tohoku Medical Megabank project seeks to develop infrastructure by creating a public biobank for use in a wide range of research both in Japan and abroad. The Project also seeks to implement next-generation medical care starting in Tohoku. The information that participants provide will be carefully safeguarded by repositories and data centers with extensive safety provisions, so there is no need to worry.
Protection of personal information and samples and data retention
Personal information such as an individual's full name and address is used only when notifying an individual of his or her check-up results.
Questionnaire data and samples will be assigned a new number and encoded so that the individual they came from cannot be identified. This is known as Anonymization of Personal Information.
The number of personal information handlers will be limited, and personal information handlers will be overseen by a personal information manager.
Samples and information will be carefully safeguarded in repositories or other facilities.